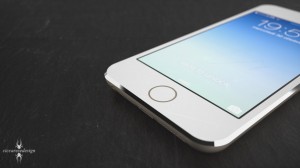 Somewhere around a dozen independent reports claim to have confirmed Apple's plans to launch two new iPhone models in 2014, and now we can toss another one onto the pile. This latest report comes from South Korea's top brokerage KDB Daewoo Securities, which is known for having inside sources that have accurately foretold companies' plans on numerous occasions in the past. But while KDB's recent note on the iPhone 6 and phablet-sized iPhone are mostly in line with a number of earlier reports, there are one or two areas where the firm's claims stray into the bizarre.
In a note to investors delivered last week and picked up on Monday by Oled-display.net, KDB Daewoo Securities detailed upcoming flagship phones from both Apple and Samsung. In the case of Apple's new iPhone models, the note seemingly reveals almost every last detail regarding the devices' main specs.
From the looks of things, the biggest difference between the standard "iPhone 6″ and the 2014 iPhone model that will climb into phablet territory is in fact that display size. According to KDB, the iPhone 6 will sport a 4.7- or 4.8-inch screen while the larger iPhone model will pack a 5.5-inch display. These screen sizes are exactly in line with earlier reports.
The firm notes that the iPhone 6′s display will sport full HD resolution (1,920 x 1,080 pixels) while the phablet will reach into 2K "quad HD" territory (2,272 x 1,280 pixels).
Elsewhere, the phones's specs are seemingly quite similar and also comparable to the iPhone 5s. Highlights include 16GB, 32GB, 64GB and 128GB internal storage options, 2GB of RAM, an 8-megapixel rear camera, a 3.2-megapixel front-facing camera and a 1,800 mAh battery. KDB also expects Apple's 2014 iPhone models to be powered by a 64-bit A8 processor, of course.
While no specs are confirmed for the time being, KDB's report is very odd in one particular area: software. While anyone and everyone expects the new iPhones this year to launch with iOS 8, KDB's note lists the devices' software version at launch as iOS 7.2. Considering we already have a very reliable report that shares some details on iOS 8, which Apple will likely unveil this summer at its annual WWDC conference, KDB's mention of iOS 7.2 on the iPhone 6 and "iPhablet" is almost definitely way off.
Finally, the note states that Apple's new iPhones will debut in either the second quarter or third quarter this year. Earlier reports from solid sources suggested that the phones will debut in September, just as Apple's iPhone 5s and iPhone 5c did last year.
Nothing is set in stone, as we already mentioned, but for those who already know beyond a shadow of a doubt that they'll be buying one of Apple's new larger iPhones this year, here's how to save $50 on your iPhone 6 purchase, regardless of how far off it might be.
----------
If you liked this article, please subscribe to our YouTube Channel for tech news, reviews and video tutorials. You can also find us on Twitter, Instagram and Facebook.