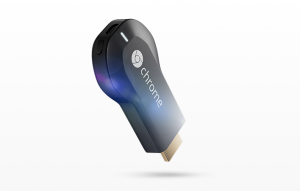 Google has recently released the Chromecast software development kit (SDK,) which means developers can now add casting support to their iOS, Android and Chrome apps. The Google Cast SDK will allow developers to bring their apps to bigger screens when used together with Google's very popular media streaming dongle, and at least one developer already has an app that can stream local content from an Android device to a big screen TV connected to a Chromecast now that the SDK is official.
"The Google Cast SDK is simple to integrate because there's no need to write a new app. Just incorporate the SDK into your existing mobile and web apps to bring your content to the TV," Google wrote on its Chromium blog. "You are in control of how and when you develop and publish your cast-ready apps through the Google Cast developer console."
All Chromecast devices have already been updated to the latest software version, which has support for Google Cast SDK. The Google Cast SDK for iOS and Chrome should already be available to developers, while the Google Cast SDK for Android should arrive part of the Google Play service 4.2 update that's also rolling out to users.
Well-known developer Koushik "Koush" Dutta, who's part of the Cyanogen Inc. team, has a Chromecast app of his own called AllCast, which can be used to stream local content on an Android device to a bunch of different media players connected to a TV. Now that the Cast SDK has been released, AllCast will finally work with the Chromecast as well after a simple update – check out the following video preview.
While the Chromecast will get a lot better as more developers will update their apps to support content streaming, Google made it clear in its terms of service that adult content won't be supported, GigaOM reports, as the same rules that govern the Google Play Developer Program will apply to Chromecast apps as well. "We don't allow content that contains nudity, graphic sex acts, or sexually explicit material," Google writes. Furthermore, hate speech, violence, bullying and online gambling are not supported either, and any apps that violate the rules will be removed in the future.
The following video further explains how the Google Cast SDK works.
----------
If you liked this article, please subscribe to our YouTube Channel for tech news, reviews and video tutorials. You can also find us on Twitter, Instagram and Facebook.