In reviewing Kia's new full-size luxury car, we're stuck between what we ought to talk about and what we want to talk about. What we ought to talk about is whether the Kia K900 is any good. What we want to talk about is whether the country is ready for a $60,000, uber-luxury Kia.


So let's start with the first question: Is the K900 any good? The answer is a resounding yes — it's very good, and by that we don't just mean very-good-for-a-Kia. This South Korean automaker may be best known for the bargain-basement Rio and the hamster-chic Soul, but the K900 is proof that Kia knows how to make a proper luxury car. If you've driven a Kia in the last couple of years – especially the mid-sized Optima or the latest iterations of the Sportage and Sorento crossovers – this won't seem like a terribly big leap. But if you're still judging Kia by the cars they were making five years ago, the K900 may come as a shock. Pregnant women and people with heart conditions, you have been warned.

[box type="info"]
FAST FACTS
Engine
: 5.0L V8 makes 420 hp to be followed by a 311-hp 3.8L V6 later.
Transmission: An eight-speed automatic is standard and exclusive.
Fuel Economy: 15 mpg city, 23 mpg highway, 18 on average.
Price: Starting from $60,400 or $66,400 with the "VIP" package.[/box]

South Korean Luxury Under a Kia Lens
What's it like to drive the K900? It's like this: Get in, settle into the soft Nappa leather seats, take a moment to admire the genuine wood trim, and then pull the door gently closed. (If you've opted for the VIP package, it'll cinch itself shut). Fiddle with the multi-adjustable driver's seat until you're comfortable, then step on the brake, push the start button, and the 5.0-liter V8 whirs quietly to life.
Program your destination into the navigation system using the dial on the center console, then squeeze the button on the shifter and ratchet it back to Drive. Those with the VIP model can invite their back-seat passengers to stretch out their legs, recline their seatbacks, turn on the seat ventilators and dial up their own temperature on the armrest control panel.

Watch your speed as you accelerate — you'll see it in living color on the head-up display projected in the windshield — because the K900 is as quiet at 80 MPH as most cars are at 40. Best to set the active cruise control, which will monitor for traffic ahead and slow down as needed, even drawing the K900 to a stop if necessary.
Slow truck impeding your progress? No problem. Just take a cursory glance in the mirror (don't worry if you miss the car sitting just off your quarter panel, because the blind-spot warning beeper is loud enough to wake the dead), then prod the pedal to kick down the 8-speed automatic and access the engines' 420 horses.
Curves ahead? No need to slow down much, as the K900's chassis is agile and athletic in a way that belies its glass-smooth ride. Sporty? Not really — this is a comfy cruiser, not a sport sedan, but at least it doesn't handle like an old-school Cadillac. Once back on the straight and narrow, you can sit back and relax as car-review cliches like "effortless mile-eater" dance through your head.
Got it? OK, good. Now re-read those last five paragraphs, substituting "Mercedes S-Class" for "Kia K900." Or "BMW 750iL." Or "Jaguar XJL." Except for a few details, it all reads correctly. That's why we're so impressed by the K900.
Engineering-wise, the K900 is the real deal. Its rear-drive platform is shared with the Hyundai Genesis and Equus, though the dimensions are unique (the K900 shares the Equus' 119.9-inch wheelbase, but size-wise it falls right between the two Hyundais) as is the contemporary sheetmetal styling that has become a Kia hallmark.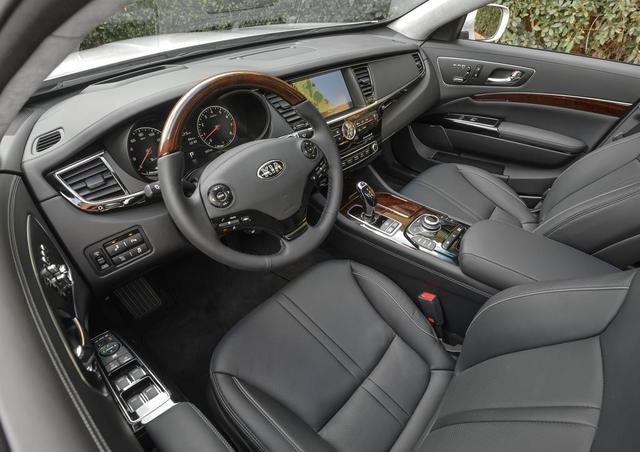 The engine is the direct-injected Tau 5.0-liter V8, while the transmission is a home-grown eight-speed automatic designed for quick downshifts and imperceptible gear changes. EPA numbers are 15 MPG in the city, 23 MPG on the highway, and we expect that most owners will see numbers in the 18-to-20 range. As with the Hyundai Genesis, Kia plans a less-expensive V6 version of the K900 powered by the corporate 3.8-liter 311 horsepower engine, but it won't appear until the V8 units have had a few months to bask in the showroom.
What's the Catch?
What didn't we like about the K900? Not a whole heck of a lot, to be honest. The steering could do with a bit more precision, a complaint we've made about other Kia cars. We weren't crazy about the dial-operated navigation system, which is ponderous and slow to program. And while the K900 mimics many of the high-end features found on top-tier luxury cars (rear-seat sunshades, premium branded stereo, power-operated trunk lid), it lacks the cutting-edge gizmos offered by the Germans, things like night-vision camera systems or massaging seats — you know, the sort of stuff that has questionable value but is fun to show off to friends and co-workers.

There's only one old-school-Kia aspect about the K900, and that's the bargain price: $60,400 for the V8 model, including a $900 destination charge. Standard equipment includes (deep breath) Nappa leather upholstery, heated and ventilated front seats, panoramic sunroof, a power-operated trunk lid, a 17-speaker Lexicon stereo, GPS navigation, auto-dimming mirrors, adaptive LED headlights, automatic rain-sensing wipers and six airbags. For comparison, a similarly equipped Mercedes-Benz S550 lists for over $107,000, and even the Jaguar XJL — a bargain among big European luxury cars — costs nearly $85k with equipment akin to the K900.
Kia is offering just one option package for the V8 model and it's a biggie: A $6,000 "VIP" package that includes reclining, heated and ventilated rear seats, extra adjustment and an extendable cushion for the driver's seat, a larger stereo and navigation screen, doors that cinch themselves shut, active cruise control and a surround view monitor, which gives you a 360-degree view around the car for easier parking. That brings the price up to $66,400, which is still $30,000 less than a similarly-equipped BMW 750iL, $40k less than a comparably-trimmed Audi A8L, and nearly fifty (!!) grand less than an equivalently-optioned Mercedes S-Class

Here's the Catch
Which brings us to the bit we want to talk about: Does anyone really want a high-end luxury car from Kia?
If you listen to Kia's marketing gurus, they'll tell you that there is a new definition of luxury and that well-heeled motorists are looking for value and amenities over image. They want the accouterments, Kia says, but they aren't willing to tolerate a $1,200 monthly lease payment just to have fancy-brand cachet.
We don't doubt that such people exist — all Kia needs is a couple thousand a year to justify the K900's existence — but the fact is that the vast majority of people who buy a Mercedes (or a BMW, or an Audi, or a Jaguar) do want the name on the trunk and the logo on their key fob. After all, isn't a luxury car a status symbol? And there's more to a status than simply showing off: Let's say you're looking to sue a corporation for a few million dollars. Which lawyer are you more likely to hire, the one who drives a BMW or the one who drives a Kia?

That said, the people at Kia aren't idiots. While they have reason to be optimistic, they understand the market as well as we do, and probably better. The real reason the K900 exists is to elevate the perception of the brand. Kia dealers aren't likely to see a flood of customers in the market for a high-end luxury car. But they will see plenty of people looking for sensible family cars, and putting a K900 amid a showroom full of Fortes, Optimas and Sportages is bound to do wonders for potential buyers' perception of the brand.
The Verdict
Whatever Kia's true motive for developing the K900, it doesn't change our opinion: This is a credible luxury car and an incredible bargain. Think of it as a $90,000 car without the $90,000 price tag.
[box type="info"]
LOVE IT
. Comfy interior
. Buttery-soft ride
. First-class back seat
. Bargain price[/box]
[box type="warning"]
LEAVE IT
. Steering lacks precision
. Navigation is fussy to program
. Kia name has little brand cachet[/box]
----------
If you liked this article, please subscribe to our YouTube Channel for tech news, reviews and video tutorials. You can also find us on Twitter, Instagram and Facebook.