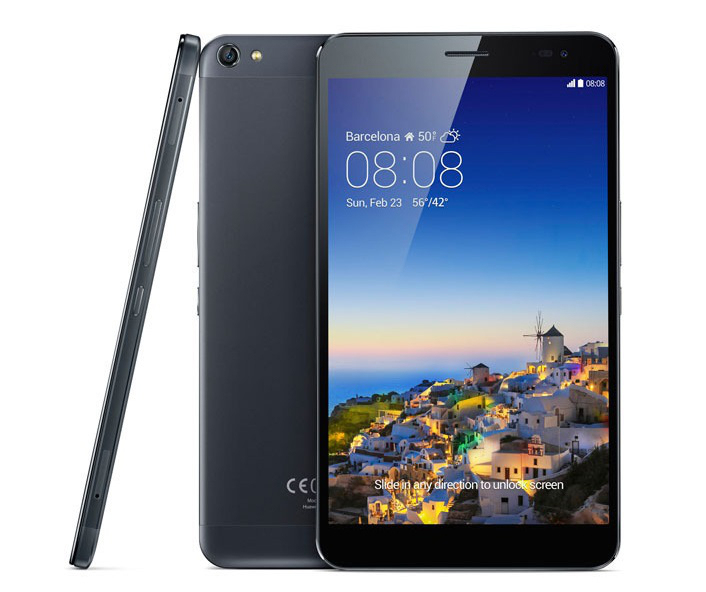 Huawei on Sunday unveiled a couple of tablets at MWC 2014 including the MediaPad X1 and the MediaPad M1, with the former model being described as "the world's slimmest 7-inch LTE Cat4-enabled all-in-one phablet." Huawei joins several Android device makers that have announced tablet-like devices that have phone features including Asus and HP.
The MediaPad X1 looks like a bigger HTC One cousin, has a "full aluminum alloy unibody design," and a profile of just 7.18mm. The phone packs a 7-inch display with 1920 x 1200 display, 80% screen-to-body ratio, 1.6GHz quad-core processor, 13-megapixel Sony Exmore BSI camera, 5-megapixel front-facing camera with various camera features including "selfies"-friendly modes, 5000mAh battery and Android 4.2 Jelly Bean under the hood.
The MediaPad X1 will launch in various markets including China, Russia, Western Europe, the Middle East, Japan and Latin America starting with March 2014. Pricing details for it aren't available yet.
The MediaPad M1 is an 8-inch Android budget tablet that will offer an 1280 x 800 IPS display, 1.6GHz quad-core processor, 5-megapixel camera, 1-megapixel front-facing camera, 4800mAh battery, dual front-facing speakers and Android. The tablet has a 7.9mm profile and weighs 329g. Both the MediaPad M1 and the MediaPad X1 will come with LTE Cat4 support (up to 150Mbps download speeds) and dual-mode Wi-Fi support.
The MediaPad M1 will launch in the first quarter of the year in various markets in Europe, the Middle East, China, Japan, Asia Pacific, Australia and Latin America. The tablet does not have a price yet, but should be affordable considering its mid-ranged hardware.
----------
If you liked this article, please subscribe to our YouTube Channel for tech news, reviews and video tutorials. You can also find us on Twitter, Instagram and Facebook.