With Samsung officially unveiling the Galaxy S5 at Mobile World Congress, we finally have confirmation of the Korean company's next flagship smartphone.
IT'S A POWERHOUSE

Samsung isn't shy when it comes to loading its top-of-the-range phones with headline-grabbing specs, and the Galaxy S5 is no different. Centre stage is its quad-core Snapdragon 805 processor, which runs at a blistering 2.5GHz. This chip, paired with 2GB of RAM, means the phone shouldn't have any bother smoothly running any app you throw at it. One thing to note: it isn't 64-bit – that's probably going to be a feature of next year's Samsung flagship.

The phone comes with Android 4.4 KitKat and a new version of Samsung's TouchWiz interface. There's no word yet on whether or not a stock Android Google Play or Nexus edition will be be available.
Meanwhile, a 2800mAh battery should give the S5 enough juice to easily last a day (Samsung claims 21 hours of talk time), and as with previous Galaxy S phones it's swappable.
You also get a choice between 16GB and 32GB of expandable storage (you can add up to 64GB extra via microSD), and there's a microUSB 3.0 port for quick transfer speeds.
On the connectivity front, there's both 4G LTE (supporting the speedy Category 4) and fifth generation Wi-Fi 802.11ac and 2X2 MiMo, plus a feature called Download Booster which uses both Wi-Fi and 4G simultaneously to download files more speedily.
[box] An octo-core version coming soon?
The Galaxy S4 came in both quad- and octo-core editions, with the latter being limited to selected markets – but at the S5 launch only a quad-core version was mentioned. Fine, we thought: Samsung was avoiding consumer confusion by releasing just one version of its top of the range phone. But then Pocket-lint noticed something interesting: the Samsung Tomorrow site was displaying an official infographic that mentioned both the 2.5GHz quad-core S5 we know about and a 2.1GHz octo-core model. The infographic has since been altered and all mention of the octo-core edition expunged. So what was it? A simple mistake? Or Samsung seeking to conceal the fact that an eight-core Galaxy S5 is coming along a little later down the line? Colour us intrigued.[/box]
DIMPLED AND WATERPROOF


The rumours claiming the S5 would boast a metal body have turned out to be hot air – Samsung has stuck with a mostly-polycarbonate build. That said, from our hands-on time we can say it's the best build quality a Galaxy S phone has offered thus far. The dimpled, matte soft-touch back is much nicer to look at and hold than the faux-leather hard plastic of recent Galaxy Note phones and tablets, and the overall feeling is one of solidity and quality.

One major improvement over the S4 is IP67 waterproofing, bringing the S5 into line with Sony's Xperia phones. It's sealed to prevent any water or dust getting inside, so you can dunk the handset into water for as long as 30 minutes and it won't protest one bit.
Oh, and we have the vital statistics too: it weighs 145g and measures up at 142 x 72.5 x 8.1mm.
It'll be available in several colours, including Charcoal Black, Shimmery White, Electric Blue and Copper Gold.
SCREEN: BIGGER, BUT NO QHD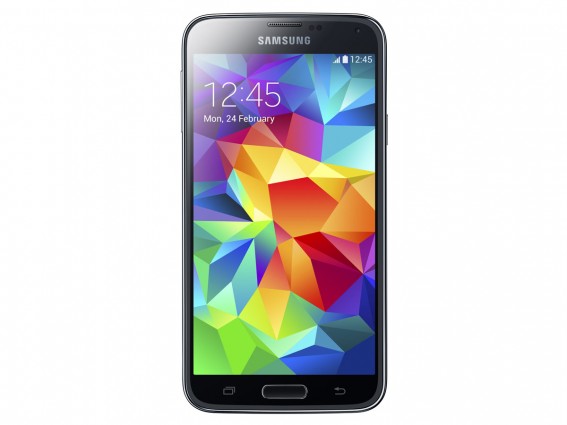 In retrospect, speculation about the S5 toting a quad HD 2560 x 1440 screen always seemed a touch far-fetched, so we're not particularly surprised to see that Samsung has retained a full HD 1080p resolution instead. The AMOLED screen, however, is slightly larger than the S4's at 5.1in.
FINGERTIPS OF FUN
Samsung has fitted the S5 with a fingerprint scanner, which serves three main purposes. First, it can swiftly unlock the phone, which works much like the Touch IDsensor on Apple's iPhone 5s (albeit a little less snappy – but it's much more accurate than the HTC One Max's scanner).
The second function is instant online mobile payments via PayPal integration, and the third is to protect important documents with a Private Mode that's unlocked by your fingerprint.
Round the back, there's a heartrate sensor – the first ever seen on a smartphone, designed to play nice with Samsung's revised S Health app.
SUPERCHARGED AUTOFOCUS

The Galaxy S5's 16MP camera comes with an LED flash, a new advanced HDR mode and post-shot focusing: it takes two images every time you press the shutter, with the focus trained in different spots: one on the subject and one on the background. This means that, after the shot's been taken, you can choose a defocussed or sharply focussed background (mostly for aesthetic reasons). But probably the camera's best new feature is its super-fast autofocus, which Samsung claims is the fastest on any smartphone at up to 0.3 seconds.
Round the front, there's a 2.1MP front camera for video chatting and selfies.
FIT BUT YOU KNOW IT

Samsung has focussed heavily on fitness with the Galaxy S5, equipping it with a brand new version of the S Health app that provides a FitBit-style activity tracker that helps you monitor your workouts and diet. S Health 3.0 is also aided by the built-in heart rate monitor and designed to integrate fully with Samsung's new wearable tech: the Galaxy Gear 2, Galaxy Gear 2 Neo and Galaxy Gear Fit – meaning you can keep an eye on your activity without having to stop to haul the S5 out of your pocket.
PRICE AND AVAILABILITY

Samsung has kept quiet on the price thus far, but we should find out some time ahead of the Galaxy S5's 11th April launch. We'll keep you updated.
Vodafone, Three, EE, Phones4u and Carphone Warehouse have all announced that they will be stocking the Galaxy S5, though prices and tariffs have yet to be revealed. We'll be updating this page with more details and links as they come in.
----------
If you liked this article, please subscribe to our YouTube Channel for tech news, reviews and video tutorials. You can also find us on Twitter, Instagram and Facebook.