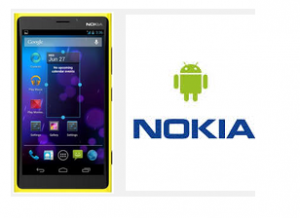 It's now largely expected that Nokia will probably target its much-rumored new Android phone at budget-conscious users, at least based on its recently reported specifications. In a tweet posted this morning, user 'evleaks' revealed the major features for the Nokia X, which goes by the codename Normandy.
Assuming that the information is accurate, the phone will offer a dual-core 1 GHz Snapdragon processor, a 4-inch WVGA screen, 512 MB of memory, 4 GB of storage, and a microSD card slot. Available in a choice of six colors for now, Normany will include a 5 mega pixel camera, a 1,500 mAh battery, and a dual-SIM setup.
Apps will be available through the Nokia Store and third-party sites. Overall, the specs are decidedly low-tech, a sign that Nokia may push it toward consumers hoping not to spend too much on a phone. Rumors have spread slowly about Nokia's purported Android phone, due in part to 'evleaks' which has posted alleged photos and other details about the new device.
In other mobile news
Sprint has improved its LTE network coverage, adding on 40 new U.S. cities, for a total of 340 markets now offering the faster 4G LTE service. The news has been anticipated for quite some time. The wireless carrier has already ticked off most the major U.S. cities off the list, and now residents of Providence, R.I.; Milwaukee, Wisc.; Salt Lake City; Mobile, Ala.; and Reno, Nev., will now be connected with Sprint's 4G LTE network.
Beyond Sprint's regular LTE service, the wireless carrier is also slowly deploying Sprint Spark, its enhanced, next-generation LTE, to roughly 100 U.S. cities over the next three years. Spark is currently working in Austin, Texas; Chicago; Dallas; Fort Lauderdale, Fla.; Fort Worth, Texas; Houston; Los Angeles; Miami; New York; San Antonio, Texas; and Tampa, Fla.
In other mobile news
Qualcomm has acquired 2,400 patents and patent applications relating to Hewlett-Packard's mobile technology. The news was expected by some wireless industry observers. The acquisition includes about 1,400 patents and applications from the United States and about 1,000 from other countries.
The patents are from ill-fated mobile efforts at HP– the iPaq handheld device, the Palm business it acquired and paid $1.2 billion for in 2010, and the Bitfone mobile device management software. "The company may be looking through its assets to determine those that may be non-core," said Wells Fargo Securities analyst Maynard Um in a research note.
"We believe that HP will look to focus on divesting its non-core assets in FY 2014 and then increase its focus on the core business segments. We believe these divestitures will help strengthen HP's cash balance, which could be utilized for share repurchases and/or strategic acquisitions." The acquisition is significant given the storm of patent infringement litigation that has swept across the mobile industry in the past year. Qualcomm is a top maker of processors for mobile phones and tablets, but it also began making completed hardware products.

Having a large mass of patents can mean a stronger defense in any patent suits or negotiations about them. It also can lead to more favorable terms in less acrimonious situations such as patent cross-licensing deals, in which companies pay one another for the right to use each others patented technology.
Meanwhile, Hewlett-Packard has been struggling to stabilize its business after several years of turmoil. The company acquired Palm and its WebOS-powered devices for a push into the mobile market, but abandoned that effort just as it began in earnest.
Now, however, it's trying again with Android-based products. But some in the industry think it may already be too late for that.
In other mobile news
According to a new report released today by wireless industry market analyst research firm JDSU, iPhone 5S owners are among the data-hungriest of all mobile device users. Overall, users of the iPhone 5S consume about 7 times more mobile data over the study's benchmark iPhone 3G in developed markets, and about twenty times more data in developing countries.
Apple smartphones and tablets accounted for 6 of the top 10 most voracious devices with the inclusion of the iPhone 5C, the iPhone 5, the 4S and the iPad 3 and 4.
"To be sure, each new generation of the iPhone has resulted in some increases in data consumption of between 20 to 40 percent on average– even today when data utilization is fairly common," said Michael Flanagan, a JDSU executive and author of the report.
"Interestingly, users of the more economically-priced iPhone 5c consume data in the range between that of the iPhone 4s and 5 users," he added. Other mobile devices that hit the list for heaviest downloads in developed regions were the HTC Sensation, Sony's Xperia SP, and of course, the Samsung's Galaxy S4 and S2 smartphones.
Among developing countries, Samsung sliced up four spots with its Galaxy S4 and S3, Note 2, and 7-inch Tab 2. Not surprisingly, 4G and LTE users were hungrier than their 3G counterparts.
A mere 0.1 percent of 4G users gobble up more than 51.3 percent of the entire LTE downlink data, according to the study. In contrast, about 1 percent of 3G users consume just 42.7 percent of the downlink data.
"The faster the speeds that mobile operators provide, the more consumers swallow it up and demand more and more," Flanagan said. "One would expect a honeymoon period in which early adopters test their devices. But for 4G users to consistently exhibit behavior ten times more extreme than 3G users well after their launch constitutes a seismic shift in the data landscape, and that's what we're seeing as a new trend."
----------
If you liked this article, please subscribe to our YouTube Channel for tech news, reviews and video tutorials. You can also find us on Twitter, Instagram and Facebook.