Purported pictures of the HTC One 2's front show what the HTC One successor's display side and on-screen buttons would look like, although it's not yet clear whether they're real images or just Photoshop jobs. The images, posted by MobilTelefon.ru, were discovered on a forum, although that page appears to have been removed, and they seem to show an HTC One-like device, whose display is turned on. The screen appears to have slim bezels, a feature that many phones are expected to employ, including the LG G Pro 2 and the Xperia Z2 in the list.
In one of the images, the on-screen buttons are shown underneath the dock, while in the second one they're gone. The Russian site says that the user would have to bring them up with a swipe whenever needed, although such a feature is yet to be confirmed. However, the app icon and/or dock placements relative to the wallpaper do not seem to change when the on-screen buttons are active.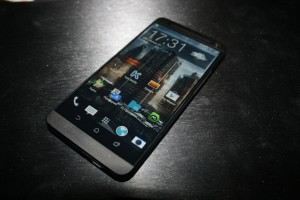 Meanwhile, HTC's regional director for the Benelux region Mark Moons took to Twitter yesterday to say that "somebody has been photo shopping…" possibly referring to an earlier leaked image that reportedly showed the back side of the display.

For what it's worth, HTC Netherlands in mid-January tweeted a teaser image possibly showing the HTC M8 (which is what the HTC One 2 is currently referred to). The picture indicates the next-gen flagship may be slightly bigger in size than its predecessor, suggesting the phone will have a 5-inch display, as some rumors claim.
When it comes to specs, well-known HTC developer @LlabTooFer tweeted a few hours ago that the HTC M8's front facing camera may offer better images than initially believed, thanks to a 5-megapixel shooter instead of a 2.1-megapixel one.
HTC is yet to invite the press to a media event for the official announcement of this highly anticipated HTC One successor.
----------
If you liked this article, please subscribe to our YouTube Channel for tech news, reviews and video tutorials. You can also find us on Twitter, Instagram and Facebook.