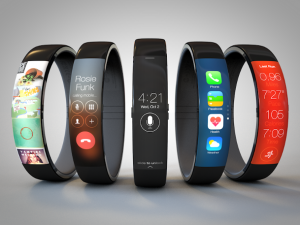 Apple may indeed launch an iWatch smartwatch later this year, according to new reports from The New York Times and 9to5Mac that further reveal some of the details surrounding the product, including potential health and fitness features in iOS 8, as well as a meeting with the FDA.
Apple executives including Jeff Williams, senior vice president of operations; Bud Tribble, vice president of software technology; Michael O'Reilly, and Tim Powderly met FDA officials in mid December 2013, the Times reports, according to a public FDA calendar entry.
The FDA execs that attended the meeting include Jeff Shuren, the director of the Center for Devices and Radiological Health, and Bakul Patel "who drafted the FDA's mobile medical app guidance and is a staunch advocate for patient safety when it comes to apps and medical gadgets."
While it's not clear what was discussed during the meeting, an unnamed Apple employee familiar with the matter said that Apple's Bob Mansfield, the senior vice president for technologies, is "directly involved" with the iWatch, and has been "heavily involved" with "exploring devices, sensors and technologies within Apple that can monitor people's health and connect to an iPhone." Another Apple employee said that former Adobe executive Kevin Lynch who joined Apple last year is currently working on software for the watch.
9to5Mac has learned more details about Apple's iWatch program, revealing that health and tracking integration will be iOS 8's "headline feature," according to sources with knowledge of the project.
In iOS 8, a special fitness app similar to the Passbook app when it comes to user interface design, called "Healthbook," will reportedly be able to keep track of fitness statistics including steps taken, calories burned, miles walked, but also monitor weight loss.
Additionally, the app will be able to monitor various signs, including blood pressure, hydration levels, heart rate "and potentially several other blood-related data points, such as glucose levels." The software will also come with Reminders integration, to help users keep track of their medications.
However, in order for Healthbook to measure all those vital signs, an iWatch will be required, a product that's described to be "designed to be heavily reliant on the iPhone." According to sources, "Apple has developed technologies to be able to pack several different sensors into a single chipset for miniaturization purposes," which could be found inside the smartwatch.
Echoing the Times, the publication also says that Mansfield and Lynch are key players in the iWatch project, noting that Apple has hired more personnel last year with health-related backgrounds including Nike advisor Jay Blahnik, former Senseonics vice president Todd Whitehurst, and O'Reilly, a former executive at Masimo Corporation who worked before on noninvasive pulse sensors. This year, the company brought in Ravi Narasimhan from Vital Connect and Nancy Dougherty from startup Sano Intelligence to work on the watch.
The Times expects the iWatch to feature a curved-glass display and to connect to the iPhone. The publication says the device will run a custom version of iOS complete with iOS support and will launch later this year.
----------
If you liked this article, please subscribe to our YouTube Channel for tech news, reviews and video tutorials. You can also find us on Twitter, Instagram and Facebook.