It can be annoying when you try to take a picture and you camera decides to go crazy on you. This has been happening for a while now on the iPhone 6 and 6 plus.
Trying to capture that wonderful moment and you phone shows you this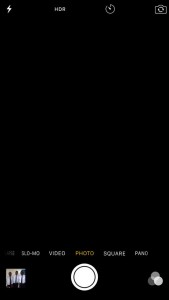 Here are a couple of tricks you can try to get your camera working in no time.
1. Update your iPhone to the Latest iOS
If your device is working on an older iOS, it is advice to update it. To do that, i would advice to update by connecting your device to iTunes on your computer, select your iPhone from the menu and update to the latest version. This might take some time, but it is way safer than the OTA (over the air) update.
2. Reset Your iPhone
This might do the trick, as some claimed resetting their iPhone fixed the issue. Resetting your phone will slightly make changes to your phone, but it won't delete your media files and contacts.
To do this, Go to Settings —> General —> Reset —> Reset all settings.
That's all about that.
3. Restore Your iPhone
Restoring your phone to the original factory settings or and earlier backup could help do the trick.
Please NOTE that restoring your iPhone will delete all your content and data  on the device, So you should backup all the data of your phone to iCloud (Settings → iCloud) before going through with the process.
Connect your iPhone to your PC —> Launch iTunes —> Select your Phone from the menu —> Restore your device.
That's all about it.
After all this and still,the phone camera refuses to work, Then you might want to contact Apple support centre as this might be a hardware problem.
----------
If you liked this article, please subscribe to our YouTube Channel for tech news, reviews and video tutorials. You can also find us on Twitter, Instagram and Facebook.