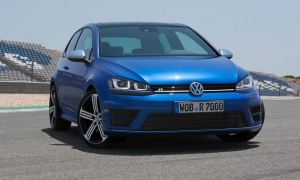 The 2015 Volkswagen Golf R will debut at the Detroit auto show next week. It gets more power, a new 4Motion system and better gas mileage — wins all the way around.
The Golf R makes 290 hp from an advanced version of VW's 2.0-liter turbocharged engine, along with 280 lb-ft of torque. That's 34 hp and 37 lb-ft more than the last model. Peak power comes at 5,500 rpm while the torque curve has been broadened, peaking at 1,800-5,500 rpm. Compared to the Golf GTI engine, the R has a modified cylinder head, pistons, high-pressure injection system and turbocharger. It uses water-cooled exhaust gas channels running to the turbocharger to reduce full-load fuel consumption and both direct and multi-port injection.
With a six-speed manual, the R gets to 62 mph in 5.3 seconds; the dual-clutch trans drops that to 4.9 seconds. Fuel mileage is up 16 percent on the European cycle. Apply that boost to the last model's U.S. fuel economy numbers, and you wind up with about 22 mpg city, 31 highway.
The 4Motion system uses a Haldex 5 coupling that is activated before wheel spin occurs, according to VW, to nearly eliminate traction losses. When coasting or under a low load, the front wheels are driven and the rears are decoupled. When power is needed, the rear can be engaged in milliseconds. If necessary, 100 percent can be sent rearward.
In addition to the Haldex, four electronic differential locks help the stability control system, briefly applying the brakes when needed. The R also has an ESC Sport mode, which allows a little more leeway when taking fast corners.

The R is 0.8-inch lower than the standard Golf. The front suspension has a newly developed lower control arm, while the multilink rear uses retuned toe-link bearings for extra stability, according to VW. A new, progressive variable-ratio steering rack improves handling, and VW says understeer "is all but eliminated." Lock to lock takes 2.1 turns, while the standard model uses 2.75.
Dynamic chassis control is optional, offering comfort, normal and sport driving modes. The driving profile selector, a system different from DCC, also offers a race mode.
Visually, the Golf R is distinguished from the rest of the pack by a new front bumper with large air inlets, an aggressive rear diffuser, dual chrome-exhaust tips, side skirts and a bunch of "R" logos.
Inside, the R continues with sport seats, three-spoke sport R steering wheel, decorative inlays in the dash and a handful of customized instruments.
The last Golf R was sort of a sleeper — we found its reflexes and reactions to be grin inducing. That, coupled with the utility of a hatchback, made it more useful than any small, hot sedan. Still, being underpowered, we had trouble comparing it to the Subaru WRX STI and Lancer Evo. With this power upgrade, those comparisons now seem a lot more apt.
The 2015 Golf R will go on sale in the first half of 2015. We'll find out more at the Detroit auto show.
----------
If you liked this article, please subscribe to our YouTube Channel for tech news, reviews and video tutorials. You can also find us on Twitter, Instagram and Facebook.