Last November in Tokyo, Lexus unveiled the RC-Coupe; the two-door version of the new IS. Like BMW, a new nomenclature distinguishing saloon and coupe. And now, like BMW, it has revealed the halo version of this new coupe: the RC-F. And my, doesn't it look good?

It will make its debut at next week's Detroit Motor Show, accompanied by a 5.0-litre V8 petrol engine producing "well above" 450bhp, making it the most powerful V8 production car Lexus has ever built. And crucially, more than that M4. Gauntlet, consider yourself thrown right in BMW's face.



No other drivetrain info has been proffered, though we can safely surmise this Lexus will be a rear-wheel-drive affair with a likely automatic gearbox (though will it mirror BMW's manual gearbox offering?). Externally you get the massive flared Lexus front, with a bonnet set higher than on the regular RC with air outlets and ducts beneath the front bumper and wings.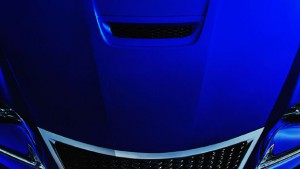 And taking cues from the LFA – which is a Good Thing – the new RC-F gets an active rear wing that deploys at 50mph and retracts at speeds below 25mph, as well as quad exhaust pipes and 10-spoke, 19in forged aluminum wheels.



Inside, we're told the RC-F's unique features over the regular RC include the instruments, steering wheel, seats, trim and pedals. There's a central dial which changes color depending on one of four driving modes, while the wheel itself is of the thick-cut variety. Five different types of cow are available for the trim, with the seat styling inspired by "high-tech athletic sportswear". Interesting.



We'll get more information when we see the full car on 14 January at Detroit. Which gives you a handy window of time to deliberate on whether you think this new RC-F will be able to trounce that irritatingly consistent BMW M4 (that's the new name for the M3 Coupe, don't forget).
----------
If you liked this article, please subscribe to our YouTube Channel for tech news, reviews and video tutorials. You can also find us on Twitter, Instagram and Facebook.