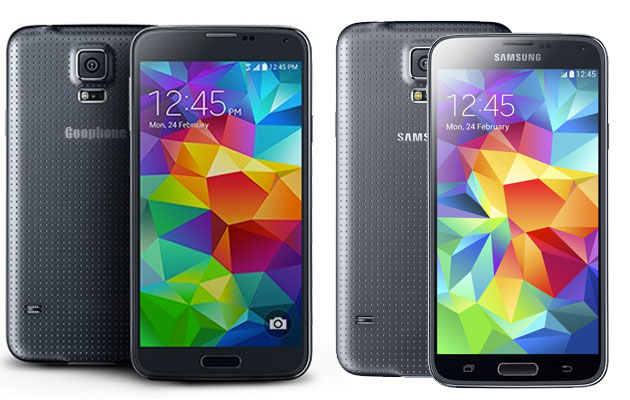 Even though the Galaxy S5 was only announced on Monday, a clone for the handset has already been unveiled, by Chinese device clone makers Goophone, which will be much less expensive than the real thing. The Goophone S5 will cost just $299.99, and for that price users will get a smartphone that looks almost exactly like the Galaxy S5, and offer almost similar specs. It's not clear when the smartphone will ship to interested buyers, being currently marked as "out of stock" on the Goophone site.
The Goophone will have a 5-inch Full HD display (1920 x 1080 resolution,) 2GHz MTK MT6592 octa-core processor, 2GB of RAM, 32GB of storage expandable via microSD card, 13-megapixel camera with LED flash, 5-megapixel front-facing camera, 2800mAh battery, dual SIM cards and Android 4.2 Jelly Bean on board. The phone's display is slightly smaller than the Galaxy S5's, and the phone only offers 3G support and 802.11b/g/n Wi-Fi.
The phone's design appears to closely resemble the design of the Galaxy S5, complete with the new band aid-like plastic back, the colors (white, black, gold and blue,) and heart rate sensor underneath the rear camera, although the company doesn't say anything about Goophone S5 actually supporting such a feature. A fingerprint scanner in the home button is also likely to be absent.
Samsung surely can't be happy about these clones popping up from China, but then again, the company knows a thing or two about being a close follower when it comes to launching products that look more or less like the competition's.
----------
If you liked this article, please subscribe to our YouTube Channel for tech news, reviews and video tutorials. You can also find us on Twitter, Instagram and Facebook.