The Mercedes-Benz GLA has been unveiled ahead of its public début at the Frankfurt motor show next month. The compact SUV will be a rivals for cars such as the Audi Q3 and Range Rover Evoque when it goes on sale in early 2014.
The GLA is based on the same platform as the A- class hatchback and CLA saloon, but has a higher-riding, SUV-style body. None of the exterior panels are shared with the A-class and, as expected, the production model is little changed from the concept car that was revealed at the Shanghai motor show in April this year.
At 442cm long and 149cm high the GLA is slightly longer and lower than a Q3 or Evoque. Mercedes claims the GLA has the most aerodynamic body in its class, with a Cd figure of 0.29.
Special features designed to improve airflow over the car include a roof spoiler lip, specially shaped tail lights and underbody panelling.
Measures to reduce wind noise include a "multilevel door sealing concept" and additional sealing of the joint between the tailgate and the roof.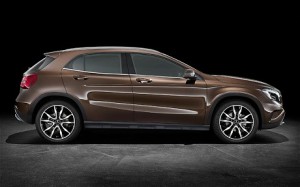 Initially, four engines will be available, all of them four-cylinder turbocharged units – the GLA 200 has a 154bhp 1.6-litre petrol, while the GLA 250 has a 208bhp 2.0-litre petrol. The GLA 200 CDI and 220 CDI have 2.1-litre diesel units with 134bhp and 168bhp respectively.
A six-speed manual gearbox is standard for both GLA 200 models, while the GLA 250 and GLA 220 CDI have a seven-speed twin-clutch (7G-DCT) transmission as standard.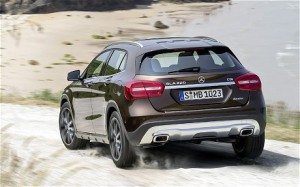 Front-wheel drive is standard for all models, while four-wheel drive is an option for GLA 250 and GLA 220 CDI models. Models with four- wheel drive also have a hill-descent system and an off-road transmission mode – that adjusts the gearshifts and accelerator characteristics accordingly – as standard.
A range of advanced safety features are standard for all versions, including Attention Assist, Collision Assist and Adaptive Brake Assist. Optional systems include Blind Spot Assist and Lane Keeping Assist.

Most of the GLA's interior trim is all but identical to that of the A-class and CLA, including its circular air vents and iPad-like display screen. An optional Load Compartment Package allows the rear seat backrest to be adjusted to a steeper angle, creating an extra 60 litres of load space.
Prices are yet to be revealed, but a starting point of about £25,000 is likely. The GLA will be available to order from late November, with first deliveries in early 2014.
----------
If you liked this article, please subscribe to our YouTube Channel for tech news, reviews and video tutorials. You can also find us on Twitter, Instagram and Facebook.