In a post on Geektime, My Permissions CEO Olivier Amar points us to the new permissions in the Facebook Android application that are a bit uncommon, and appear to be related to the $19 billion WhatsApp purchase.
For example, Facebook now wants to be able to do some unusual things on Android devices including "preventing your phone from sleeping; sending emails to calendar event guests without your knowledge; adjusting or configuring your wallpaper for you; reading your confidential information; and–perhaps most egregious, not to mention ironic–reading your SMS/MMS messages," as Amar puts it.
Apparently Facebook needs to read text messages so it can confirm phone number via text message; read/write contacts so it can import and sync contacts with Facebook; add/modify calendar events and send emails to guests without your knowledge so that Facebook events appear in your calendar; read calendar events and confidential information so that Facebook can check your calendar against your Facebook events plans.
Amar speculates that the "change your wallpaper" feature may be related to a future Facebook feature that will let the company deliver full-screen ads to phones that have its apps installed.
In addition to these new Facebook Android app permissions, the WhatsApp Android app has been updated in mid-January with some strange permissions of its own, according to an xda-developers forum post. Specifically, the app apparently requests permission to take pictures and video as well as record audio with the microphone without the user's explicit permission.
However, WhatsApp addressed the camera matter on its website in its FAQ section. "WhatsApp has no interest in taking photos of you; we simply wish to make it easier for you to have a rich, photographically enhanced conversation with those closest to you. Your privacy and security are important to us, and we want you to feel confident that you can use the application freely," the company wrote.
The Facebook WhatsApp purchase was confirmed on February 19. The Facebook Android app has last been updated on February 18, while the WhatsApp app has been last updated on March 4.
Screenshots showing new Facebook's and WhatsApp's new Android permissions follow below.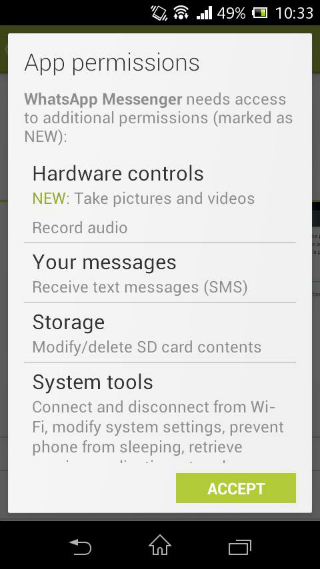 ----------
If you liked this article, please subscribe to our YouTube Channel for tech news, reviews and video tutorials. You can also find us on Twitter, Instagram and Facebook.