"It's interesting to watch today – all of a sudden wearable electronics is this new discovery. We were doing this back in 2004 (with Thump, the MP3 player glasses). We have patents that go back even further – which a lot of people are finding out today and I'm loving every frickin' minute of that."
Speaking at the launch of Oakley's Disruptive By Design campaign in Los Angeles, the bespectacled Baden has good reason to be pumped about face-based gadgets. He's just announced that electronic eyewear is one of three "innovation pillars" his company is working on at One Icon, its California HQ.
We sat down with Ryan Calilung, Director of R&D, and Ryan Saylor, Director of Optical Development, to chat about what's next for 2012's HUD ski goggles Airwave, what they think of Oculus Rift and Oakley's big plans to pump sports data directly to our eyeballs.
AIRWAVE 2 AND 3


Oakley's HUD skiing and snowboarding goggles 
Airwave
, built in partnership with Recon Instruments, were its first leap into AR sports tech in 2012. The goggles have a built-in heads up display – that looks like a 14in screen from 5 feet away – as well as GPS, Bluetooth, preloaded maps, music control and onboard sensors. A 1.5 model has already been launched in November 2013 with improved battery life.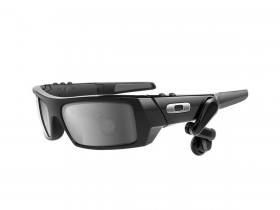 "The reality is we didn't completely redefine the Recon device," says Saylor. "But we definitely redefined the operating system, how our customers interact with it. The UI is just as important as any component." "The Buddy Tracker (locating friends with Airwave goggles or the Oakley app) as simple as it is," says Calilung "has been an incredible hit in terms of the social aspect. Gone are the days when it was just a guy out there snowboarding by himself."
"If you look at the lessons learned from Thump in 2004, arguably we misread what the consumer wanted and we ended up on the wrong side. One of the big learnings from Airwave is the massive amounts of data from usage patterns – are they using Buddy Tracker? Who are they with? Where are they? Do they go on weekends? With Airwave 2 and 3, it will be even better."
Any more tech partnerships on the horizon? "Recon was part of that first wave of the technology. There's new players everyday and the trick is not finding the latest and greatest but what we can bring to market quickly." Sounds like Oakley is shopping.
NO SPORT LEFT BEHIND


"Absolutely," says Calilung. "If you go to any serious enthusiasts – not even active competitors – the amount of data they're collecting now, from Strava and any of those programs, it's massive. They are waiting for it. Headborne is just a natural place to put it. Luckily at Oakley, we're in that space." There's no question of Oakley's intentions. We ask if they can apply Airwave's design, tech features and UI to other sports. 
"If I had a dream about that scenario – when I'm out mountain biking in Colorado, I actually want to see the mountains, while having a piece of technology that can be as elegant and unobtrusive as possible but give me all the trail information and everything I need." 
"Any sport with data, metrics or some sort of real-time information is within our realm of opportunity," adds Saylor.
MODUL-AR

"The future for us," says Calilung, "is deciding what the vast majority of our users are going to do and then making our UI modular or offering some form of hardware modularity or customisability. That's the only way you can do it."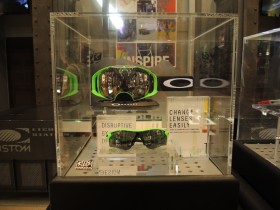 "A sports enthusiast could use their eyewear for running, cycling or playing golf. I don't want that person to necessarily have a golf glass – I want them to have our performance glass."
Saylor agrees: "If you want to go for a run and you want music, you should have music. If another day, you don't care about metrics, you shouldn't be burdened with AR and monitors or whatever creates the metrics. But if you're him (points to Calilung) and what matters is power output or energy consumption – he's going to have the experience he wants."
----------
If you liked this article, please subscribe to our YouTube Channel for tech news, reviews and video tutorials. You can also find us on Twitter, Instagram and Facebook.