The Android L Developer Preview that was launched on Thursday was rooted in just a few short hours, xda-developers reports, with well known developer savoca having managed to root the new software on both the Nexus 5 and the Nexus 7 (2013).
The site says the procedure is fairly easy once certain requirements are met. Users who are already running Android L on Nexus 5 or Nexus 7 (2013) should first flash a custom recovery and flash Chainfire's SuperSU. Once that's done, they should simply fastboot flash the appropriate image for their device.
Xda-developers says that root access doesn't work quite as it did in the past when it comes to access to system write, with developer savoca further explaining the matter.
"Lots of you are complaining that apps like titanium backup and helium are crashing or just not working," he wrote on the forums. "And the popular thing to do is complain that there is no /system write access, buuuut, there is system write access. I'll admit it, at first instinct I thought this was the case too. Upon further inspection, it looks like root app developers are going to need to the new security contexts when they run an elevated command. This will explain why some of your apps can write to system and some cannot. I know Root Explorer has been properly updated, for example."
Google unveiled Android L at I/O on Wednesday alongside new Android products, including Android One, Android TV and Android Auto. The final Android L version will be released at some point this fall, likely together with new Nexus hardware.
An image showing a Nexus 5 running rooted Android L follows below.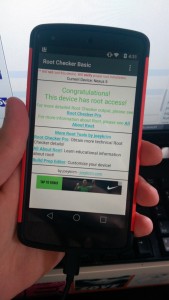 ----------
If you liked this article, please subscribe to our YouTube Channel for tech news, reviews and video tutorials. You can also find us on Twitter, Instagram and Facebook.