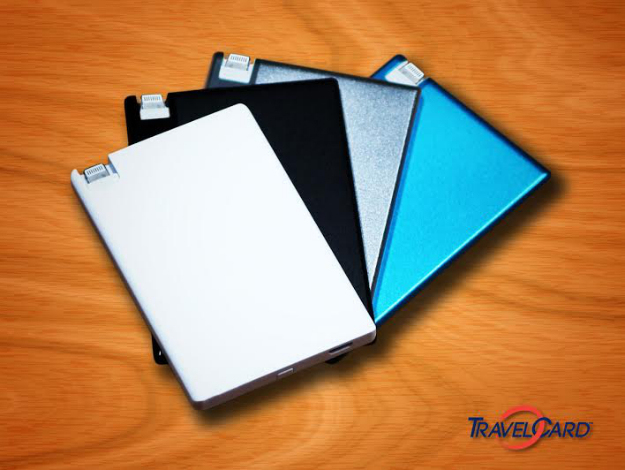 The LithiumCard isn't the only credit card-sized battery for mobile devices seeking crowd-funding, as there's also a TravelCard project that offers iPhone and Android smartphones exactly the same perk: a credit card-like device that packs enough energy to bring life to a dying smartphone.
According to the Go Design company the TravelCard's 1300mAh battery can offer an additional 5 hours of talk time, 4.5 hours of internet usage or 98 hours of standby time on top of what the phone's battery has to offer. The device is just 4.77mm thick and weighs 56.7g, fitting into most wallets or pockets, and comes with either a Lightning or microUSB charging cord.
The TravelCard will be made in lightweight aircraft grade aluminium and come in white, black, silver and sapphire blue. Apple has already approved a prototype of the external battery under its MFi (Made for iPhone) program, and the TravelCard will be built in an Apple certified Factory.
The company has reached its funding goal of $10,500 in less than two days, and with 24 days to go it's almost at $30,000. The cheapest TravelCard that can be purchased via  Kickstarter costs $40, with the external battery expected to cost $45 when it hits stores later this year. The TravelCard should ship to backers at some point in May.
A video further detailing the TravelCard follows below.
----------
If you liked this article, please subscribe to our YouTube Channel for tech news, reviews and video tutorials. You can also find us on Twitter, Instagram and Facebook.