Samsung is preparing its second-generation S Band, even as it failed to ship its first-generation version. According to a sales guide obtained by SamMobile, the new S Band will function similarly to its predecessor but feature a much-improved design. The new S Band will track sleep, calories, steps and distance, and will connect to compatible Samsung smartphones over Bluetooth. If the S Band loses its connection it will alert the user with a vibration and LED light. The new design is sleek and simple, with no screen and only a single LED light. It can be worn either as a watch or as a clip attached to clothes; when worn as a watch, the black band can be swapped for different color bands, including white, yellow, orange and gray.
Samsung has been working on every type of wearable device imaginable lately. In addition to its bulky smartwatches — the Galaxy Gear, Gear 2 and Gear 2 Neo — the company also unveiled a more streamlined Gear Fit, which features a shorter and wider display.
Samsung was also rumored to be launching a wearable device called the S-Circle with specs similar to the S Band, but it's not clear if this is the same device.
Pictures of the S Band can be seen below. SamMobile has more images here.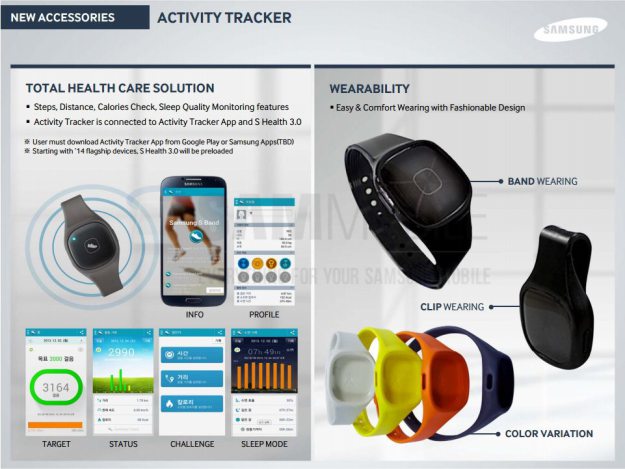 ----------
If you liked this article, please subscribe to our YouTube Channel for tech news, reviews and video tutorials. You can also find us on Twitter, Instagram and Facebook.